Public Sphere by Performance, with Bojana Cvejic
Berlin: b_books (in cooperation with co-publisher: Les Laboratoires d'Aubervilliers), 2012, 2015 second edition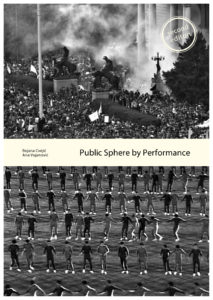 reviews:
Juliane Debeusscher, "Public Sphere by Performance", Critique d'art [En ligne], 2012. Read here
Marko Đorđević, "Ana Vujanović, Bojana Cvejić, The Public Sphere by Performance, 2012. – recenzija", Art + Media, Journal of Art and Media Studies no. 6, 2014. Read here
---
About the book:
The book Public Sphere by Performance results from a two-year research project Performance and the Public that Ana Vujanović, Bojana Cvejić and Marta Popivoda carried out in 2011 and 2012, during the residency of TkH at Les Laboratoires d'Aubervillier. The part of the research of Marta Popivoda gave rise to the documentary film Yugoslavia: How Ideology Moved Our Collective Body.
The point of departure for this research is the recurrent problem of the public: the eclipse of the public sphere throughout the twentieth century as a marker of the crisis of representative democracy. The theoretical and political perspectives of this transdisciplinary research stem from the discontinuous experiences of participation in the public sphere in former socialist Yugoslavia and contemporary Western neoliberalism. The authors propose an analysis of and discussion about the public – and its discontents – through several models of mass, collective, and self-performances, such as social drama and social choreography. In numerous collaborations with artists, theoreticians, and activists in 2011, they have closely observed transversal social, artistic, and cultural artifacts and practices: movements, images,laws, habits, and discourses.
There are few questions as politically pressing as that of the public – who it is, what it desires, and perhaps more crucially, who wants to destroy it in the name of neoliberal privatisation and the "order" imposed by the state's own image of a 'public' mobilised against its own people. By addressing thequestion of the public through the prism of performance, Bojana Cvejić and Ana Vujanović acutely outline the past, present and future of the 'public' in an era when all of its supports—the welfare state, a strong image of democracy, collective movements—have been marginalised or destroyed.

Nina Power, senior lecturer in philosophy at Roehampton University, London
---
Content:
Part I: The Public Sphere and its Discontents
Chapter 1 The Eclipse of the Public

Mapping the public in the social field

Chapter 2 Can We Only Perform the Public Now?

Performance and action
Hackers of the public: Four parables

#1 Parrhesiast Socrates, the first known civil disobedient
#2 John Wilkes, or the vicissitudes of the public and personal limits to freedom of speech
#3 Comrade Vlado Dapčević: Ideological overidentification and its unhappy political performative
#4 WikiLeaks: Overlaying the political onto the public
Part II: Ideology and Mass Performances
Chapter 3 Materiality of Ideology
Chapter 4 Social Choreography
The origins of the idea of "social choreography"

The aesthetic continuum between everyday movement and dance
Social choreography and the political unconscious
Performative vs. mimetic mode of aesthetic ideology
Is social choreography a critical method?
Mass dancing and the political (un)conscious
Proceduralism: From performance to choreography

Chapter 5 Social Drama

Revisiting the method of social drama
Communitas and liminality
The ideological practice of communitas: Individualism and collectivism
Social drama in neoliberal society: The dramatic vs. the post dramatic
Gazimestan (Kosovo), 1989: Communitas as the negative
Film stills from the documentary film Yugoslavia: How Ideology Moved Our Collective Body, by Marta Popivoda
Part III: The Self and the Public
Chapter 6 Performance of the Self: A History in Theory

Habitus
Social role
Man as actor
Technologies of the self
Performing identity

Chapter 7 In the Person of the Author

The birth of the artist's personality: A critical historical perspective
Making and doing art in The Century of the Self
Rethinking the person of the author: To be a person, I need the mask

Chapter 8 Solo Dance as a Technique of the Self

Emotionalism in self-expression
A wheel that turns on itself in a room of its own
Between practice and therapy
Final Remarks
Theoretical comic: Dull Smart Mobs, by Siniša Ilić and Ana Vujanović
Bibliography
---
Berlin: b_books, [2012] 2015
184 pages
ISBN: 3942214105, 9783942214100